Sr. Clinical Engineer Equipment Specialist
CLINICAL ENGINEERING
Florida-Miami-Nicklaus Children's Hospital - Main Hospital Campus
Miami, Florida
Requisition ID 22166
Job Summary
Responsible for providing medical equipment technical support to staff, patients, and administrators relating to Nicklaus Children's Health System's wide life cycle management of medical equipment and systems. Performs routine and complex tasks involved in the installation, maintenance, modification, troubleshooting and calibration of therapeutic, diagnostic, and life support biomedical equipment. Analyzes and corrects problems associated with instrument operation and malfunction, trains users on appropriate and safe use of medical equipment technology, performs scheduled calibrations, maintenance, safety testing, and plans and coordinates medical equipment installations.
Job Specific Duties
Applies appropriate documenting evidence with the use of stickers or other means to indicate dates of medical equipment testing and performance characteristics.

Documents all work performed in the computerized maintenance management system (CMMS). Ensures documentation is completed in accordance with regulatory body requirements, NCHS policies and guidelines, and federal/state requirements.

Identifies and reports abnormal conditions of medical equipment use that may interfere with patient safety or equipment longevity.

Instructs users in operating techniques, safety, and application of medical equipment as needed.

Ensures all repaired medical equipment operates safely and according to manufacturer specifications and/or appropriate accreditation agencies.

Minimizes medical equipment downtime by determining when it is best to use vendor repair services.

Performs scheduled testing, calibration, and maintenance.

Plans and ensures the orderly, safe, and satisfactory installation of medical equipment through coordination with vendors, manufacturers, and users.

Applies basic networking principles to resolve medical system communication issues including, but not limited to, node to server failures.

Ensures appropriate and reliable connectivity between medical communication systems and clinical systems.

Oversees the design, development, validation, and testing of the integration between medical equipment belonging to different departments.

Serves as project leader for equipment installation to include but not limited to: discussing contract requirements and concerns with the Clinical Engineering Director/Manager, architect/engineer and contractor; identifying the site requirements, preparing cost analysis and justifications, preparing site plans and progress reports; acting as the project coordinator during installation, testing phases and through to completion of the project to include acceptance testing, planning and coordinating work schedules with other services, and arranging utility shutdowns; identifying and ordering materials and arranging for assistance from other trades and crafts as necessary.

Responds to department user requests to analyze and correct reported medical equipment failures in a timely manner.

Trains and supports biomedical equipment support specialists in the basics service of medical equipment.

Responds to Medical Equipment Recalls and Alerts as directed by department Director/Manager.
Minimum Job Requirements
Associates degree in Biomedical field or related technical field and 8 years of experience as a Biomedical Equipment Support Specialist, Biomedical Equipment Technician, Field Service Engineer, or Medical Equipment Repairer (OR) Completion of a military training program in biomedical equipment and 8 years of experience as a Biomedical Equipment Support Specialist, Biomedical Equipment Technician, Field Service Engineer or Medical Equipment Repairer (OR) Bachelor's degree in Biomedical Engineering field or related technical field   (Required)

Florida driver's license may be required depending on job assignment.

6 years of experience in a healthcare biomedical engineering setting.

6 years of experience working in a high-stress environment, such as fixing failed medical equipment while being used in patient care.
Knowledge, Skills, and Abilities
Certified Biomedical Equipment Technician (CBET) or Certified Laboratory Equipment Specialist (CLES) is highly preferred.

Knowledge of a wide range of sciences including, but not limited to, electronics (analog and digital), computer science/networking, mechanical engineering design, pneumatics, hydraulics, chemistry, physiology, medical terminology, anatomy, optics, and biology to perform duties of a broad scope and nature on complex and sophisticated patient-related medical systems and sub-systems.

Ability to perform advanced testing and troubleshooting of medical devices involving their interfaces and connections to information systems either directly or through the hospitals hardwired and wireless networks.

Able to apply basic networking principles to resolve medical system communication issues including, but not limited to, node to server failures.

Knowledge of codes and standards relevant to safe operation of medical instrumentation such as National Fire Protection Association (NFPA), Food and Drug Administration (FDA), ACHA, CAP, Nuclear Regulatory Commission (NRC), DNV, the Joint Commission (TJC), and the Association for the Advancement of Medical Instrumentation (AAMI).

Skills in the use of all types of test and calibration equipment such as digital multi-meters, electrical safety analyzers, defibrillator analyzers, patient simulators, digital oscilloscopes, pulse generators, and Local Area Network (LAN) analyzers in performing troubleshooting/repair and preventive maintenance activities.

Knowledge of contracting regulations, requirements, and specific contract specifications including performance-based contracts.

Knowledge of project management principles required to effectively and efficiently manage multiple, concurrent projects.

Ability to communicate effectively in English both verbally and in writing.

Knowledge of Spanish is helpful.

Able to communicate effectively with clinical, technical and managerial staff.

Able to follow verbal, written, and diagrammatic instructions, solve complex problems, and file basic reports.

Able to prioritize issues, provide guidance, coordinate, and escalate support services.

Able to understand computer system concepts and how systems interface with each other.

Knowledge of computers (e.g., Microsoft Windows), printers, databases, networks and/or ability to learn software applications.
Information Technology
Florida-Miami-Nicklaus Children's Hospital - Main Hospital Campus
CLINICAL ENGINEERING-2100-810000
:Full Time
Apply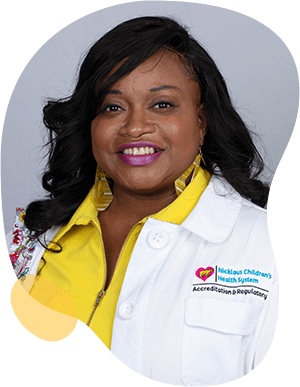 Joining a new organization can be daunting or overwhelming. But at Nicklaus, your colleagues make you feel welcomed. They taught me to celebrate our accomplishments and band together during challenging times. This is not easy to find in healthcare these days, so I'm grateful to have found an amazing place to work with people and leadership who have my well-being in mind.

Lova Renee Brunson

Manager Accreditation & Regulatory
Collaboration leads to success.
Alone we can do so little; together we can do so much. Working together, we find solutions and methods we would never find alone, and at Nicklaus Children's, we have fun doing it.
Responsibility drives us.
We all take responsibility here – for the children, their families, our work and each other. We meet our responsibilities head on and motivate each other to succeed.
Empower yourself, help others.
Nicklaus Children's encourages team members to believe in their ability to affect positive change in the world through everything they do with us.
Advocate for the right way.
Advocate for children. Advocate for families. Advocate for yourself. But most of all, advocate for getting the job done right and you will find nothing but success and support in your career here.
Transformation is growth.
At Nicklaus Children's, change is not to be feared. When you work here, you are always working with the most advanced tools and procedures available.
Empathy is everything.
We expect our team members to have empathy for the patients and families they treat, and in turn, we have empathy for them. We take care of everyone in the Nicklaus Children's family with competitive benefits and our supportive culture.
Join Our Talent Community