Sr. Clinical Trial Research Coordinator (Full Time, Day Shift)
RI - CLINICAL TRIAL OPERATIONS
Florida-Miami-Nicklaus Children's Hospital - Main Hospital Campus
Miami, Florida
Requisition ID 24738
Job Summary
Works independently on more complex projects/assignments. Coordinates clinical research studies on human subjects. Responsible for subject recruitment (screening, consenting support and enrollment), follow-up, data management (entry and reporting), detailed record keeping, regulatory compliance, report writing, and correspondence with investigators, IRBs, sponsors, CRO's and regulatory authorities. Responsible for new research application (including study start-up processes and requirements) and submission of protocols with subsequent amendments. Trains and mentors junior CRC staff, Research Assistants, Data assistants and Research Volunteers. Some participation in protocol writing. Participates in protocol writing as needed and maintains initial and continuing education for Good Clinical Practice compliance.
Job Specific Duties
Assists management with business development efforts.

Attends and participates in investigator meetings, pre-study visits, and initiation meetings or coordinator meetings as appropriate.

Collects and maintains accurate patient data for submission to Sponsor, maintaining proper patient records, coordinating the collection, and shipments of specimens as required by protocol.

Communicates study objectives/procedures to relevant hospital units involved with the study including the establishment of good rapport with the Principal Investigator & providing required assistance.

Communicates with the Sponsor or their representatives. Schedules & facilitates study monitor visits, and facilitates communication between Principal Investigator and Sponsor or Sponsor's reps.

Complies with the Research Finance Compliance policies and procedures including reporting requirements to research finance staff.

Interacts with patients and families to recruit study subjects and ensures compliance with the protocol.

Responsible for speedy and adequate patient enrollment as determined by Research Management in all assigned studies.

Submits new protocols to Research Regulatory Affairs team (for IRB submission/approval) and verifies proper document are received with the proper format.

Submits amendments of protocols to Research Regulatory Affairs team and verifies the required corrections are inserted following the established procedures.

Utilizes Good Clinical Practices in the conduct of clinical trials as per established protocol.

Follows NCH RI's Standard Operating Procedures, AAHRPP, HIPAA and FDA guidelines for clinical research, and keeps updated in those procedures and/or guidelines.

Enters Research Patient information into CTMS within 72 hours of enrollment, patient visit or patient-related event.

Provides new Protocols, Amendments and study status updates to necessary research staff for digitization/entry into CTMS.

Assist with training initiatives (including mentoring) with new and junior research staff (Research Assistants, Data assistants and Research Volunteers).
Minimum Job Requirements
 AA and 5 years of research or clinical experience (OR) Bachelor's degree and 2 years of research or clinical experience (OR) Master's degree and 1 year of research or clinical experience (OR) 7+ years of Clinical Research Coordinator experience  
Knowledge, Skills, and Abilities
Experience in pediatric clinical research in a hospital setting preferred.

Clinical research certification (CCRC, CCRP, CRA) and IATA certification preferred.

5+ years research or Clinical Research Experience preferred.

Experience with interventional (PI Initiated, IND and/or Device) clinical trials preferred.

Bilingual in English/Spanish preferred.

Excellent communication skills in working with both children and adults.

Excellent organizational skills, detail-oriented, people-oriented, flexible, and adaptable to change.

Excellent time management skills.

Knowledge of protocols and its process.

Experience with software applications including word processing, scheduling and contact database, email, web browsing, hospital records, other database software and office equipment.

Experience with relevant hospital equipment for each clinical trial project.
Professional
Florida-Miami-Nicklaus Children's Hospital - Main Hospital Campus
RI - CLINICAL TRIAL OPERATIONS-2100-380863
:Full Time
Apply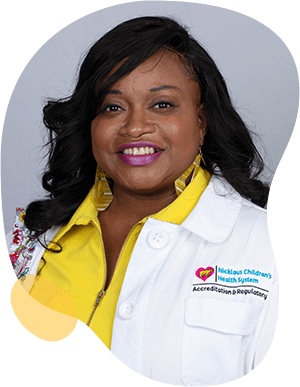 Joining a new organization can be daunting or overwhelming. But at Nicklaus, your colleagues make you feel welcomed. They taught me to celebrate our accomplishments and band together during challenging times. This is not easy to find in healthcare these days, so I'm grateful to have found an amazing place to work with people and leadership who have my well-being in mind.

Lova Renee Brunson

Manager Accreditation & Regulatory
Collaboration leads to success.
Alone we can do so little; together we can do so much. Working together, we find solutions and methods we would never find alone, and at Nicklaus Children's, we have fun doing it.
Responsibility drives us.
We all take responsibility here – for the children, their families, our work and each other. We meet our responsibilities head on and motivate each other to succeed.
Empower yourself, help others.
Nicklaus Children's encourages team members to believe in their ability to affect positive change in the world through everything they do with us.
Advocate for the right way.
Advocate for children. Advocate for families. Advocate for yourself. But most of all, advocate for getting the job done right and you will find nothing but success and support in your career here.
Transformation is growth.
At Nicklaus Children's, change is not to be feared. When you work here, you are always working with the most advanced tools and procedures available.
Empathy is everything.
We expect our team members to have empathy for the patients and families they treat, and in turn, we have empathy for them. We take care of everyone in the Nicklaus Children's family with competitive benefits and our supportive culture.
Join Our Talent Community