Sr Executive Project Manager
BUSINESS OPERATIONS SUPPORT
Florida-Miami-NCHS Corporate Headquarters
Miami, Florida
Requisition ID 22723
Job Summary
Leads projects which are complex, multi-disciplinary, and/or enterprise-wide as directed by the SVP/President. Responsible for the direction, coordination, implementation, executive control, and completion of all phases of multiple and simultaneous projects assigned while remaining aligned with strategy, commitments, and goals of the organization. Responsible for team development, monitoring, and guidance. Accountable for work process analysis and improvement, data analysis and creative problem solving, and facilitation of various strategic initiatives.
Job Specific Duties
Manages multiple complex projects as directed by the SVP/President.

Assists SVP/President with developing, planning, and executing of strategic and organizational initiatives. Collaborates with senior leadership as directed by SVP/President to achieve goals. Partners with the Office of Process Improvement to ensure all projects and initiatives employ lean methodology and include sustainability plans.

Represents SVP/President in task forces, committees, and multidisciplinary teams as assigned.

Identifies issues or needs that arise throughout the organization that are cross-functional and require SVP/President guidance. Evaluates and analyzes issues and presents findings to executive leaders for effective decision making. Presents recommendations orally and in writing in a clear and concise format.

Identifies key project stakeholders and interdependencies to establish project team to carryout project activities.

Plans and directs project activities to ensure deliverables are within scope of project and achieved within the budget and timeframe outlined.

Maintains regular communications with stakeholders regarding project status.

Revises work plans as appropriate to meet changing needs and requirements while ensuring engagement with stakeholders to identify and track benefits.

Establishes project quality standards, monitors project status, and maintains project plans on schedule.
Minimum Job Requirements
Bachelor's Degree

in

Health Administration, Business Administration, or related field

7-10 years

of p

roject

m

anagement experience in healthcare environment

7-10 years

of h

ospital financial and operational data analysis
Knowledge, Skills, and Abilities
Master's degree preferred.

Lean/Six Sigma Training skills.

Excellent interpersonal skills with aptitude for physician relations.

Excellent analytical skills.

Ability to problem solve and provide conflict resolution.

Good written and oral communication skills with ability to tailor communication to multiple levels within the organization.

Business Acumen.

Understanding of the overall healthcare delivery model and program offerings both internally and within the marketplace.

Knowledge of hospital operations.

Knowledge of healthcare financial drivers and state and federal regulatory guidelines relevant to hospital operations.

Ability to apply guidelines to relevant projects, strategic initiatives, etc.

Ability to manage multiple complex, high dollar projects, and prioritize and plan time effectively ensuring deadlines are met.

Create and execute project work plans that meet budget requirements and deliver desired business outcomes.

Ability to maintain confidentiality of sensitive information.

Proficient in Microsoft applications: Excel, Word, Access, and PowerPoint
Management
Florida-Miami-NCHS Corporate Headquarters
BUSINESS OPERATIONS SUPPORT-2100-866906
:Full Time
Apply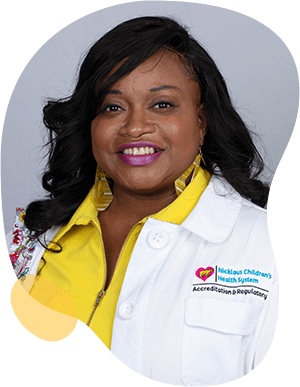 Joining a new organization can be daunting or overwhelming. But at Nicklaus, your colleagues make you feel welcomed. They taught me to celebrate our accomplishments and band together during challenging times. This is not easy to find in healthcare these days, so I'm grateful to have found an amazing place to work with people and leadership who have my well-being in mind.

Lova Renee Brunson

Manager Accreditation & Regulatory
Collaboration leads to success.
Alone we can do so little; together we can do so much. Working together, we find solutions and methods we would never find alone, and at Nicklaus Children's, we have fun doing it.
Responsibility drives us.
We all take responsibility here – for the children, their families, our work and each other. We meet our responsibilities head on and motivate each other to succeed.
Empower yourself, help others.
Nicklaus Children's encourages team members to believe in their ability to affect positive change in the world through everything they do with us.
Advocate for the right way.
Advocate for children. Advocate for families. Advocate for yourself. But most of all, advocate for getting the job done right and you will find nothing but success and support in your career here.
Transformation is growth.
At Nicklaus Children's, change is not to be feared. When you work here, you are always working with the most advanced tools and procedures available.
Empathy is everything.
We expect our team members to have empathy for the patients and families they treat, and in turn, we have empathy for them. We take care of everyone in the Nicklaus Children's family with competitive benefits and our supportive culture.
Join Our Talent Community