Sr. Payer Strategy Analyst-REMOTE
NCHS-MANAGED CARE CONTRACTING
Florida-Miami-NCHS Corporate Headquarters
Miami, Florida
Requisition ID 22710
Job Summary
Develops complex contractual reimbursement analysis to support contract negotiations performed by Administrative Director of Managed Care and Payer Strategy. Provides analytics to support the Managed Care objectives of NCHS.
Job Specific Duties
Manages contract documentation process.

Prepares and analyzes contract proposals by evaluating financial impact.

Supports contract negotiations with financial analysis.

Conducts contract audits to identify payer behavior and areas of opportunity.

Obtains and performs regular fee schedule audits of Managed Care Contracts to ensure appropriate level of reimbursement is applied.

Prepares Contract Rate Models forecasting future negotiation rates.

Mentors or coaches other analysts in the Financial Analytics team.

Develops and executes complex business plans (including financial models) and project plans to obtain new business growth for the organization.

Assists in ongoing research and maintains working knowledge of payer policies and governmental regulations.

Assists Patient Financial Services Billing and Collections departments in payer policy or reimbursement system audits.

Works cross functionally to operationalize systems and organizational changes required to comply with executed contract requirements.

Presents reimbursement results to leaders as needed.

Serves as liaison with contract management account representative to drive contract loading, and ensure accurate modeling.
Minimum Job Requirements
Bachelor's Degree

in

Business Administration, Healthcare Administration, or related field 

4-7 years

of

experience in managed care and analytics (strategic planning, business development,

financial analysis, forecasting, and data modeling)
Knowledge, Skills, and Abilities
Master's in Business Administration, Healthcare Administration, or related field highly preferred

nThrive (previously known as MedAssets), or similar contract management tool system preferred

Prior experience using business intelligence system(s)

Knowledge of ICD9, ICD10, CPT, DRG and other coding/reimbursement schedules

Advanced Excel modeling, formulas, and automation skills

Able to create queries and manipulate data results for modeling

Ability to communicate verbally and in writing

Able to maintain confidentiality of sensitive information

Ability to problem solve and formulate a plan of action

Able to analyze and audit contracts to identify any opportunities in payment behavior

Excellent financial, analytical, communication and organizational skills

Experience in bringing together groups with diverse interests and helping groups to build common goals

Specific knowledge in a Contract Maintenance Environment for the purpose of Contract Coding and Contracts

Knowledge of reimbursement terminology and contract testing

Knowledge of healthcare reimbursements in a Managed Care environment

Demonstrates competency in financial and statistical reporting, design, preparation of spreadsheets and other financial reports

Strong problem solving skills

Skills in the use of complex mathematical and statistical techniques to assess financial and statistical scenarios

Ability to utilize discretion and independent judgment to support the financial goals of the organization

Able to communicate verbal and written information in a clear, concise and easy to understand manner for use by internal and external groups
Professional
Florida-Miami-NCHS Corporate Headquarters
NCHS-MANAGED CARE CONTRACTING-1000-900910
:Full Time
Apply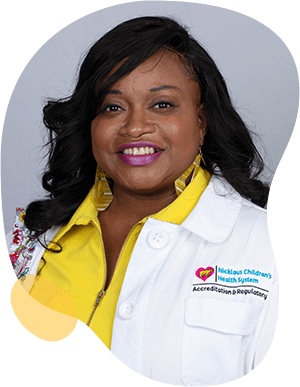 Joining a new organization can be daunting or overwhelming. But at Nicklaus, your colleagues make you feel welcomed. They taught me to celebrate our accomplishments and band together during challenging times. This is not easy to find in healthcare these days, so I'm grateful to have found an amazing place to work with people and leadership who have my well-being in mind.

Lova Renee Brunson

Manager Accreditation & Regulatory
Collaboration leads to success.
Alone we can do so little; together we can do so much. Working together, we find solutions and methods we would never find alone, and at Nicklaus Children's, we have fun doing it.
Responsibility drives us.
We all take responsibility here – for the children, their families, our work and each other. We meet our responsibilities head on and motivate each other to succeed.
Empower yourself, help others.
Nicklaus Children's encourages team members to believe in their ability to affect positive change in the world through everything they do with us.
Advocate for the right way.
Advocate for children. Advocate for families. Advocate for yourself. But most of all, advocate for getting the job done right and you will find nothing but success and support in your career here.
Transformation is growth.
At Nicklaus Children's, change is not to be feared. When you work here, you are always working with the most advanced tools and procedures available.
Empathy is everything.
We expect our team members to have empathy for the patients and families they treat, and in turn, we have empathy for them. We take care of everyone in the Nicklaus Children's family with competitive benefits and our supportive culture.
Join Our Talent Community