Sr. Software Engineer
WEB & SOFTWARE DEVELOPMNT
Florida-Miami-Waterford Offices
Miami, Florida
Requisition ID 21988
Job Summary
Provides technical oversight of application development efforts at Nicklaus Children's Hospital. Responsible for leading the planning, design, development, deployment and overall maintenance of software platforms. Performs hands-on coding efforts using latest technology and best practices. Participates in project management activities and keeps department leadership informed of ongoing projects.
Job Specific Duties
Responsible for leading the planning, design, installation, operation, performance management, and maintenance of development to ensure that standards are being met.

Responsible for applications development platforms, and provide mentoring & knowledge transfer to the rest of the team. Serves as a subject matter expert on web development for the hospital.

Conducts daily team huddles and reports issues and progress to leadership.

Designs, develops and maintains web application systems. Encodes, tests, debugs, installs, and maintains supported applications.

Develops user requirement documents including use-cases, process flows and navigational maps.

Directs the team's work flow to provide effective and timely information systems services to clients.

Improves the implementation, design and maintenance process by evaluating the adequacy of the tool sets and introducing new tools, techniques and practices to ensure efficiency & productivity.

Reviews development roadmap and ensures it adheres to overall strategy and goals for the business & makes adjustments as necessary.

Communicates with stakeholders and others on project status and notifies teams of any issues.
Minimum Job Requirements
Bachelor's Degree

in

Computer Sciences/Information Systems/related major or at least 5 years of experience in Information Technology in a technical role

2-4 years

of

 experience in

technical leadership or lead role for development teams

4-7 years

of

experience in Information Systems development, implementation and support

4-7 years

of

related experience in web technologies and tools
Knowledge, Skills, and Abilities
Expert level knowledge of web technologies (HTML, CSS, JavaScript, etc.) and web services (XML, JSON, REST, Web API, etc.)

Expert software skills in web programming using Visual Studio, C#, .Net, .Net Core, MVC.

Expert skills in TFS and Git repos and source-control strategies (Git verbs, branching, merging, pull requests, etc.)

Expert skills in authentication methodologies (OAuth, tokens, http header, MFA, etc.)

Expert in popular libraries like JQuery and Bootstrap.

Expert at understanding the full lifecycle of software development practices.

Expert-level understanding of multi-tier web architectures, and OO design patterns and concepts.

Proficiency in Entity Framework, SQL and LINQ.

Proficiency in optimizing database transactions, mainly MS SQL Server.

Proficiency in cloud applications, preferably Azure (apps, functions, services, resources).

Knowledge in JavaScript frameworks like React, Node.js, and Angular preferred.

Excellent technical documentation skills and time management skills.

Ability to recommend architectural changes to improve the quality of applications and architecture.

Ability to communicate effectively.

Strong leadership and take-charge attitude.

Knowledge in configuring and deploying an entire web app in a Windows server (IIS, SSL certs, routes, security, etc.)

Knowledge of networking technologies including security and encryption on the Internet (Cross-site Scripting, SQL injections, Session hijacking, etc.), and basic networking concepts.

Strong point of view on end-user functionality and an eye for highly usable user interface design.

Experience with agile development methodology and implementation of such processes for projects.
Information Technology
Florida-Miami-Waterford Offices
WEB & SOFTWARE DEVELOPMNT-1000-921907
:Full Time
Apply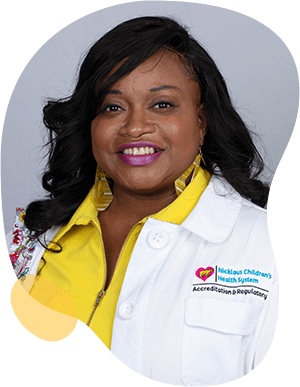 Joining a new organization can be daunting or overwhelming. But at Nicklaus, your colleagues make you feel welcomed. They taught me to celebrate our accomplishments and band together during challenging times. This is not easy to find in healthcare these days, so I'm grateful to have found an amazing place to work with people and leadership who have my well-being in mind.

Lova Renee Brunson

Manager Accreditation & Regulatory
Collaboration leads to success.
Alone we can do so little; together we can do so much. Working together, we find solutions and methods we would never find alone, and at Nicklaus Children's, we have fun doing it.
Responsibility drives us.
We all take responsibility here – for the children, their families, our work and each other. We meet our responsibilities head on and motivate each other to succeed.
Empower yourself, help others.
Nicklaus Children's encourages team members to believe in their ability to affect positive change in the world through everything they do with us.
Advocate for the right way.
Advocate for children. Advocate for families. Advocate for yourself. But most of all, advocate for getting the job done right and you will find nothing but success and support in your career here.
Transformation is growth.
At Nicklaus Children's, change is not to be feared. When you work here, you are always working with the most advanced tools and procedures available.
Empathy is everything.
We expect our team members to have empathy for the patients and families they treat, and in turn, we have empathy for them. We take care of everyone in the Nicklaus Children's family with competitive benefits and our supportive culture.
Join Our Talent Community