Sr. Strategic Advisor
STRATEGIC BUS DEV & GROWTH
Florida-Miami-Nicklaus Children's Hospital - Main Hospital Campus
Miami, Florida
Requisition ID 21498
Job Summary
Supports the strategic planning process and is a key member of the team that promotes understanding across the health system. Participates in the system-wide strategic planning processes and works with Finance on the development of strategic and business plans for major initiatives. Supports the health system strategy, conducts research on industry trends, and analyzes/utilizes data in organizational assessments. Works collaboratively in a team-based environment, understands external and industry drivers, and shares information with operational leaders.
Job Specific Duties
Supports the health system strategic planning processes, facilitates the coordination, data analysis, and tracking of business outcomes, and provides updates on the developments and early indications of strategy or model performance and operational metrics. F: Monthly/ T: 4-5 hours R:

Leads the project management planning and oversight process. Communicates the project/initiative needs, requirements, services, and information to internal and external customers. F: Daily/ T: 30-120 mins R:

Researches best practices and future trends, monitors external trends, and indicators that may influence or impact the execution of the strategic plan. F: Daily/ T: 1-3 hours R:

Supports the health system organizational climate assessment (OCA) and planning process, guides, and assists leaders to prepare strategic and business plans. Assists leaders to translate concepts into a business plan. F: Daily/ T: 3-5 hours R:

Manages the analysis and authoring of business plans and supports the execution of major system initiatives. F: Daily/ T: 30-120 mins R:

Understands the competitive landscape; monitors industry trends, regulations and external market forces; provides information when available and incorporates information into business planning. F: Daily/ T: 2-3 hours R:

Presents analysis, recommendations, plans, and outcomes to senior leadership and internal/external stakeholder groups. F: Monthly/ T: 5 hours R:

Collaborates with personnel from all lines of business to develop and manage the Strategic Plans with objective of maximizing value for Leaders. F: / T: R:

Analyze project or initiative challenges, develops conceptual solutions, and negotiates in support of business opportunity. F: / T: R:

Oversee all aspects of financial modeling and work associated with business opportunities and strategic initiatives. F: / T: R:

Manage due diligence processes, including analyzing information received, organizing, and managing subject matter experts. F: / T: R:

Offer suggestions and challenges where appropriate during team meetings, including challenging management assumptions on forecasts. F: / T: R:

Work collaboratively with relevant stakeholders to deliver information and analysis on a timely and efficient basis. F: / T: R:

Prepare clear, insightful presentations to management and all key stakeholders to support the discussion and decision making process. F: / T: R:

Effectively communicate complex operational, financial and strategic analyses and alternatives to management and key stakeholders. F: / T: R:
Minimum Job Requirements
Bachelor's Degree

in

Healthcare Administration, Business, or related field

4-7 years

e

xperience working in strategic planning, business operations, or system-wide strategy setting

4-7 years

e

xperience in a healthcare environment including, but not limited to financial analysis, planning, regulatory and/or business forecasting

Financial and programmatic reporting experience
Knowledge, Skills, and Abilities
Master's degree preferred.

Pediatric hospital or health system experience preferred.

Ability to create and critically evaluate a pro forma, guide, and support leaders.

Posses business acumen and critical thinking skills.

Ability to apply industry standards and best practices; understands market trends for the applicable service area through the tracking of market share data.

Familiarity with statistics, scientific method, medicine, finance, law, and policy among other topics to be able to understand and apply relevant whitepapers and academic publications.

Adept at data analysis and forecasting.

Discretion with proprietary, confidential, and/or otherwise sensitive information.

Excellent written and verbal communication.

Strong problem solving skills.
Professional
Florida-Miami-Nicklaus Children's Hospital - Main Hospital Campus
STRATEGIC BUS DEV & GROWTH-1000-955906
:Full Time
Apply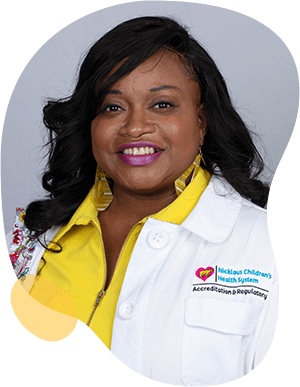 Joining a new organization can be daunting or overwhelming. But at Nicklaus, your colleagues make you feel welcomed. They taught me to celebrate our accomplishments and band together during challenging times. This is not easy to find in healthcare these days, so I'm grateful to have found an amazing place to work with people and leadership who have my well-being in mind.

Lova Renee Brunson

Manager Accreditation & Regulatory
Collaboration leads to success.
Alone we can do so little; together we can do so much. Working together, we find solutions and methods we would never find alone, and at Nicklaus Children's, we have fun doing it.
Responsibility drives us.
We all take responsibility here – for the children, their families, our work and each other. We meet our responsibilities head on and motivate each other to succeed.
Empower yourself, help others.
Nicklaus Children's encourages team members to believe in their ability to affect positive change in the world through everything they do with us.
Advocate for the right way.
Advocate for children. Advocate for families. Advocate for yourself. But most of all, advocate for getting the job done right and you will find nothing but success and support in your career here.
Transformation is growth.
At Nicklaus Children's, change is not to be feared. When you work here, you are always working with the most advanced tools and procedures available.
Empathy is everything.
We expect our team members to have empathy for the patients and families they treat, and in turn, we have empathy for them. We take care of everyone in the Nicklaus Children's family with competitive benefits and our supportive culture.
Join Our Talent Community