Sterile Processing Technician
STERILE PROCESSING SUPPLY
Florida-Miami-Nicklaus Children's Hospital - Main Hospital Campus
Miami, Florida
Requisition ID 23574
Job Summary:
Works under the direction of the Supervisor and Manager of Sterile Processing to provide sterile processing for all reusable instruments and trays through the decontamination process, prep sterilization, storage and distribution. Dispenses all direct orders received. Prepares case carts and supplies OR requests. Maintains inventory of sterile/non-sterile supplies and equipment used in the treatment of patients. Ensures compliance with the AAMI, OSHA, and AORN standards and guidelines.
***This position is for weekend schedule, Sat & Sun 6:00pm to 6:00am and Mon & Tues from 10pm to 6:30am***
Minimum Job Requirements:
Prior customer service experience
Essential Job Duties:
Patient Care Activities:
Processes and decontaminates all biological indicators, instruments, trays, carts according to industry standards of AAMI.
Assembles, sterilizes, records and stores all reusable instruments, trays and carts.
Evaluates and inspects all instruments, and equipment for function and cleanliness as per AAMI standards.
Utilizes resources including One Source.docs database and manufacturer guidelines to ensure that all cleanliness standards are being met.
Provides assistance & training to new employees.
Monitors inventory & assures that supplies are adequate, properly stored and rotated.
Responds to all telephone and operating room calls/ and intercoms in an effort to improve communication.
Safety and Quality:
Follows universal precautions (i.e.; donning of Personal Precaution Equipment (PPE), disinfection of equipment) according to safety guidelines outlined by the manufacturers.
Documents each step of the process in the sterilization.  Performs and reports all tests, reviews and document based on AAMI standards
Common Duties:
Maintains Professional accountability to ensure compliance thru timely completion of Certifications, Competencies, health requirements (PPD, N95. Flu), initial competencies & education requirements.
Ensures Clinical Excellence Index (CEI) with zero-based equipment issues, and follows proper AAMI sterilization standards according to guidelines.

Maintains professional accountability by meeting the Service Excellence Index (SEI) standards and complying with the attendance guidelines and procedures and ensures behavior is compliant.
Knowledge/Skills/Abilities:
High school education or equivalent preferred    
Experience working with medical equipment and/or instrumentation is strongly preferred
Currently attending or successfully completed a surgical tech certification program preferred    
Ability to learn appropriate software applications
Knowledge of AAMI, OSHA, and AORN standards and guidelines
Knowledge of medical terminology
Able to relate cooperatively and constructively with clients and co-workers
Able to maintain confidentiality of sensitive information
Ability to interpret, adapt, and react calmly under stressful conditions
Ability to take call according to the Operating Room Schedule per departmental policy

Ability to respond rapidly in a quickly changing circumstance in the patient care environment
(EOE DFW)
12/16/16
Support
Florida-Miami-Nicklaus Children's Hospital - Main Hospital Campus
STERILE PROCESSING SUPPLY-2100-719000
:Full Time
Apply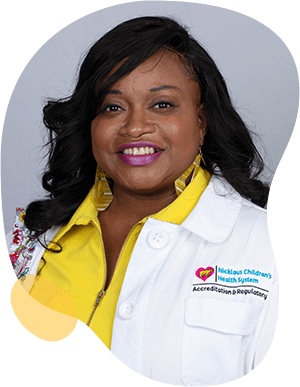 Joining a new organization can be daunting or overwhelming. But at Nicklaus, your colleagues make you feel welcomed. They taught me to celebrate our accomplishments and band together during challenging times. This is not easy to find in healthcare these days, so I'm grateful to have found an amazing place to work with people and leadership who have my well-being in mind.

Lova Renee Brunson

Manager Accreditation & Regulatory
Collaboration leads to success.
Alone we can do so little; together we can do so much. Working together, we find solutions and methods we would never find alone, and at Nicklaus Children's, we have fun doing it.
Responsibility drives us.
We all take responsibility here – for the children, their families, our work and each other. We meet our responsibilities head on and motivate each other to succeed.
Empower yourself, help others.
Nicklaus Children's encourages team members to believe in their ability to affect positive change in the world through everything they do with us.
Advocate for the right way.
Advocate for children. Advocate for families. Advocate for yourself. But most of all, advocate for getting the job done right and you will find nothing but success and support in your career here.
Transformation is growth.
At Nicklaus Children's, change is not to be feared. When you work here, you are always working with the most advanced tools and procedures available.
Empathy is everything.
We expect our team members to have empathy for the patients and families they treat, and in turn, we have empathy for them. We take care of everyone in the Nicklaus Children's family with competitive benefits and our supportive culture.
Join Our Talent Community