Supervisor - Children & Family Experience (Full Time)
CHILDREN & FAMILY EXPERIENCE
Florida-Miami-Nicklaus Children's Hospital - Main Hospital Campus
Miami, Florida
Requisition ID 25295
Job Summary
Supervises the departmental activities to ensure quality service to both internal and external customers. Responsible for operation management and service development of programs within assigned areas. Responsible for all operations including service delivery, fiscal supervision, allocation of human resources, accomplishing departmental outcomes and patient/family satisfaction within assigned areas. Develops partnerships with clinical care teams to improve outcomes for patient care and service delivery to meet the needs within the clinical environment.
Job Specific Duties
Supervises the operations of the department. Utilizes and interprets data to set benchmark goals for the improvement of attendance and patient participation outcomes. Supports the coordination of activities, events, lodging, and services based on patient populations and unit trends.




Supervises staff and manages schedules/PTO request. Responsible for training, staff performance, productivity, conducting performance reviews, and developing methods to improve patient outcomes/experiences.




Leads special events representing the Children & Family Experience team. Supervises the facilitation and coordination of events. Represents leadership team both at on-campus and off-campus events. Ensures a timely response regarding elite donor and special guest relationships.




Responsible for enhancement of promotion, services, activities, and patient experience/interactions being provided under the care of the staff and volunteers.




Conducts staff observations to validate and support the services being provided. Ensures quality of services being delivered is within the standards set by NCH and governing associations. Mentors staff in order to successfully meet the competencies for their position and provide ongoing feedback.




Facilitates in-services conducted for staff to ensure improvement of processes and to facilitate awareness of best practices and national standards. Maintains/updates policies and procedures.




Supervises volunteer program. Manages relationships with Volunteer Resources and is responsible for adequate volunteer staffing to support team. Develops standard of procedure for training and coordinates and develops a productive work environment for volunteers.




Performs fiscal duties according to policies and procedures. Works with leader in planning and implementing departments' budget. Establishes action plans to control expenses.




Creates and prioritize goals to align with NCH goals & initiates and evaluates their success. Participates in current and new program development, priority projects, and continuous improvement.
Minimum Job Requirements
Associate's degree and/or 60 completed credits in Child Development, Education, or Health Service related field 




1-3 years of experience working with Patient Experience/Service related teams within a hospital or related setting




1-3 years of experience coordinating large and small scale events
Knowledge, Skills, and Abilities
Bi-lingual in English/Spanish preferred.




Experience dealing with patients and families in a hospital setting preferred.




Demonstrated proficiency in project management.




Demonstrated leadership abilities.




Ability to resolve problems, analyze issues, and create action plans.




Displays a professional image and role model in service excellence.




Considerable experience in dealing effectively with people in stressful situations.




Effective and efficient use of technological resources utilized by department.




Effective interpersonal skills to negotiate for cooperation and encourage collaboration with superiors, peers, physicians, and staff.




Flexibility to respond to departments' needs and varying schedules.




Ability to resolve problems, analyze issues, and create action plans.




Ability to communicate effectively both verbally and in writing.




Able to maintain confidentiality of sensitive information.
Management
Florida-Miami-Nicklaus Children's Hospital - Main Hospital Campus
CHILDREN & FAMILY EXPERIENCE-2100-864001
:Full Time
Apply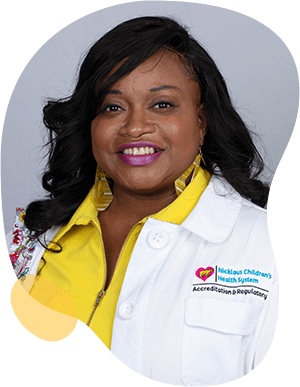 Joining a new organization can be daunting or overwhelming. But at Nicklaus, your colleagues make you feel welcomed. They taught me to celebrate our accomplishments and band together during challenging times. This is not easy to find in healthcare these days, so I'm grateful to have found an amazing place to work with people and leadership who have my well-being in mind.

Lova Renee Brunson

Manager Accreditation & Regulatory
Collaboration leads to success.
Alone we can do so little; together we can do so much. Working together, we find solutions and methods we would never find alone, and at Nicklaus Children's, we have fun doing it.
Responsibility drives us.
We all take responsibility here – for the children, their families, our work and each other. We meet our responsibilities head on and motivate each other to succeed.
Empower yourself, help others.
Nicklaus Children's encourages team members to believe in their ability to affect positive change in the world through everything they do with us.
Advocate for the right way.
Advocate for children. Advocate for families. Advocate for yourself. But most of all, advocate for getting the job done right and you will find nothing but success and support in your career here.
Transformation is growth.
At Nicklaus Children's, change is not to be feared. When you work here, you are always working with the most advanced tools and procedures available.
Empathy is everything.
We expect our team members to have empathy for the patients and families they treat, and in turn, we have empathy for them. We take care of everyone in the Nicklaus Children's family with competitive benefits and our supportive culture.
Join Our Talent Community