Supervisor Radiology - Miramar UCC (Full Time)
MIRAMAR OP CTR-RADIOLGY
Florida-Miami-Nicklaus Children's Hospital - Main Hospital Campus
Miami, Florida
Requisition ID 24326
Job Summary
Produces diagnostic quality radiographs with the use of roentgen rays. Operates stationary x-ray equipment; prepares examination room, equipment, supplies and medications. Provides for patient comfort and safety during examination. Accountable for assisting in the delivery of quality imaging and diagnostic services and compliance with patient care standards. Maintains radiologic services in accordance with established hospital, federal, and state standards. Manages the workflow, daily operations and collaborates with the medical staff, leaders, staff, and stakeholders throughout the UCC and NCPS network.

Job Specific Duties
Coordinates the daily flow of operations. Works as a liaison to work together with the radiologists and other modalities as needed.
Adjusts equipment, determines proper technique, and arranges immobilization and support devices to obtain correct patient position as needed. Produces quality radiographs and repeats views.
Coordinates the staffing scheduling and flow of operations. Accountable for the department staffing plan to meet business operation needs.
Supervises staff, participates in the interview process, coaches and trains technologists, evaluates technical quality of radiology staff, and assists with technical problems.
Responsible for observation of technologists in adhering to radiation safety measures as well as Quality Assurance. Documents findings accordingly.
Performs within UCC and NCPS centers and ensures staffing coverage is met.
Assists with ordering supplies, monitors inventory, and maintains cleanliness of the equipment throughout UCC and NCPS network.
Utilizes LEAN principles and tools to improve processes and promote patient safety and clinical excellence.
Responsible for the growth & people pillar metrics to include department volumes, service excellence, Press Ganey scores and engagement to achieve operations goals/budget and patient satisfaction.
Reports any equipment problems/malfunctions to appropriate person, reports issues to clinical engineering department.
Trains and orients new employees, coordinates radiology students quarterly.
Performs patient and departmental rounding. Takes immediate action to resolve any staffing issues and works to improve the SEI, patient satisfaction.
Edits kronos in a timely and accurate manner.
Responsible to perform patient identification check utilizing two patient identifiers per hospital policy.
Creates an environment to optimize the patient experience and support the happy family initiative and increase departmental SEI indicators.
Conducts staff huddles, coaches staff, and attends monthly leadership meetings.
Creates and updates departmental schedules.
Performs appropriate radiologic examinations, explains procedures, promptly enters and transmits patient information into PACS.
Assist in the development and coaching to include, performance improvement plan of imaging technologists within UCC and NCPS network.

Minimum Job Requirements
Graduate of an AMA Accredited School of Radiology Technology 
American Heart Association BLS – maintain active and in good standing 
General X-Ray License from the State of Florida, Department of Health and Rehabilitative Services
3-5 years of experience as a Radiologic Technologist
Knowledge, Skills, and Abilities
Strong customer service experience in an acute care hospital preferred.
Ability to interpret, adapt, and react calmly under stressful conditions.
Ability to manage multiple priorities, strong time management skills, critical thinking, and conflict resolution skills.
Works effectively in a collaborative environment.
Intermediate knowledge of Microsoft office is preferred.

Management
Florida-Miami-Nicklaus Children's Hospital - Main Hospital Campus
MIRAMAR OP CTR-RADIOLGY-2100-570721
:Part Time with Benefits
Apply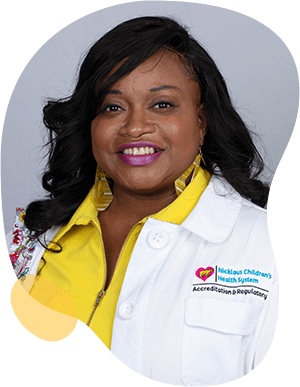 Joining a new organization can be daunting or overwhelming. But at Nicklaus, your colleagues make you feel welcomed. They taught me to celebrate our accomplishments and band together during challenging times. This is not easy to find in healthcare these days, so I'm grateful to have found an amazing place to work with people and leadership who have my well-being in mind.

Lova Renee Brunson

Manager Accreditation & Regulatory
Collaboration leads to success.
Alone we can do so little; together we can do so much. Working together, we find solutions and methods we would never find alone, and at Nicklaus Children's, we have fun doing it.
Responsibility drives us.
We all take responsibility here – for the children, their families, our work and each other. We meet our responsibilities head on and motivate each other to succeed.
Empower yourself, help others.
Nicklaus Children's encourages team members to believe in their ability to affect positive change in the world through everything they do with us.
Advocate for the right way.
Advocate for children. Advocate for families. Advocate for yourself. But most of all, advocate for getting the job done right and you will find nothing but success and support in your career here.
Transformation is growth.
At Nicklaus Children's, change is not to be feared. When you work here, you are always working with the most advanced tools and procedures available.
Empathy is everything.
We expect our team members to have empathy for the patients and families they treat, and in turn, we have empathy for them. We take care of everyone in the Nicklaus Children's family with competitive benefits and our supportive culture.
Join Our Talent Community