Talent Management Intern (Flexible Part Time for 6 months)
PROFESSIONAL DEV & ORG CULTURE
Florida-Miami-NCHS Corporate Headquarters
Miami, Florida
Requisition ID 23826
Job Summary

The Talent Management Internship at Nicklaus Children's Health System is a 6 month opportunity for undergraduate students currently enrolled in health management, business, human resources or communications programs to gain unique and valuable experience for professional growth. Over the course of the program, the intern will develop working relationships with their preceptor and NCHS leaders. The intern will have the opportunity to become involved in an array of special projects, mentorship, and exposure to pediatric healthcare human resources operations.
*** Internship for 6 month period*** The ideal candidate for this opportunity will have strong Microsoft Office Suite skills, especially in Excel & PowerPoint. Knowledge of graphic design is a big plus to assist with creating flyers, promotions and communication documents. An assertive individual with strong communication, social and interpersonal skills is key. ***
This is a part time position consisting of approximately 20 hours weekly.

Job Specific Duties
Completes department assignments and projects as assigned, contributing to objectives and goals.
Attends all needed meetings as identified by the NCHS Talent Management Team.
Responsible for culture based employee lifecycle interviews - tracking, trending and reporting on identified elements.
Complies with all standards for safety, risk management, and infection control as required by enforcement agencies.
Maintains records of goals and accomplishments to be reported to Preceptor on weekly basis.
Participates as requested on teams, committees, and special projects and events both internal and external to the organization.
Assists with action form processing and tracking.
Creates presentations with guidance of team to share across broader leadership team.
Minimum Job Requirements
Enrolled in an accredited undergraduate degree program in health care administration, business administration, human resources administration, communications/marketing, public health, health informatics, or a related field.  (Required)
Knowledge, Skills, and Abilities
Experience in healthcare field is helpful.
Demonstrates critical thinking skills and initiative.
Able to work independently, and is flexible and adaptable to change.
Able to work full-time during the summer (Monday-Friday, 8 hours/day during business hours).
Demonstrates the ability to juggle workload and to absorb and assimilate new knowledge in a short amount of time.
Able to relate cooperatively and constructively with clients and co-workers.
Fluent in reading, writing and speaking English - fluency in Spanish is a plus
Strong communication skills (verbally and in writing).
Able to maintain confidentiality of sensitive information.
Strong computer literacy and analytical skills.
Ability to use logical and scientific thinking to interpret technical data and solve a broad range of problems.
Professional
Florida-Miami-NCHS Corporate Headquarters
PROFESSIONAL DEV & ORG CULTURE-1000-952910
:Part Time No Benefits
Apply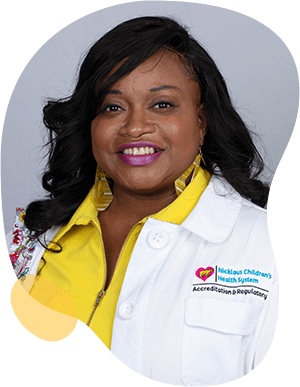 Joining a new organization can be daunting or overwhelming. But at Nicklaus, your colleagues make you feel welcomed. They taught me to celebrate our accomplishments and band together during challenging times. This is not easy to find in healthcare these days, so I'm grateful to have found an amazing place to work with people and leadership who have my well-being in mind.

Lova Renee Brunson

Manager Accreditation & Regulatory
Collaboration leads to success.
Alone we can do so little; together we can do so much. Working together, we find solutions and methods we would never find alone, and at Nicklaus Children's, we have fun doing it.
Responsibility drives us.
We all take responsibility here – for the children, their families, our work and each other. We meet our responsibilities head on and motivate each other to succeed.
Empower yourself, help others.
Nicklaus Children's encourages team members to believe in their ability to affect positive change in the world through everything they do with us.
Advocate for the right way.
Advocate for children. Advocate for families. Advocate for yourself. But most of all, advocate for getting the job done right and you will find nothing but success and support in your career here.
Transformation is growth.
At Nicklaus Children's, change is not to be feared. When you work here, you are always working with the most advanced tools and procedures available.
Empathy is everything.
We expect our team members to have empathy for the patients and families they treat, and in turn, we have empathy for them. We take care of everyone in the Nicklaus Children's family with competitive benefits and our supportive culture.
Join Our Talent Community