Telephone System Operator (Part Time, Night Shift)
COMM-SWITCH BOARD OP
Florida-Miami-Nicklaus Children's Hospital - Main Hospital Campus
Miami, Florida
Requisition ID 20601
Job Summary:
Operates telephone system and provides customers with information about Nicklaus Children's Health System (NCHS) locations and services. Performs various communication and clerical duties.
***Schedule for this position is Sat & Sun, 6:00am - 6:00pm***
Minimum Job Requirements:
1 year of working experience providing customer service over the phone.
Basic proficiency in Microsoft Word and Outlook.
Job Specific Duties:
Answers and screens calls in a professional, courteous, and timely manner.­
Connects calls for patients, doctors, and employees requiring assistance.­
Announces in-house calls for voice paging, beeper pages, emergency calls, other codes, and other information requests.
Announces various codes in accordance with emergency plans.
Receives Code Blue and Rapid Response for inpatients phone calls, follows through, and completes the Code Blue and Rapid Response processes.
Answers and transfers video calls for TeleHealth program.
Provides direction to NCHS locations.­
Records emergency and in-house messages for physicians when offices are closed.­
Reports equipment that is not in good working condition in a timely manner.
Updates NCHS on-call schedule
Knowledge/Skills/Abilities:
Able to communicate effectively in English both verbally and in writing in a clear, concise, courteous, and prompt manner with all internal and external customers.
Fluent in Spanish strongly preferred.
Able to maintain confidentiality of sensitive information.
Able to follow complex and detailed written and/or verbal instructions to solve problems.
Able to establish necessary professional relationships, and interact effectively with internal and external customers.
Able to adapt and react calmly under stressful conditions in pleasant manner.
Able to learn work related software application(s), and effectively use them.

Able to relate cooperatively and constructively with customers and co-workers.
(EOE DFW)
8/13/19
Clerical/Administrative
Florida-Miami-Nicklaus Children's Hospital - Main Hospital Campus
COMM-SWITCH BOARD OP-1000-954903
:Part Time with Benefits
Apply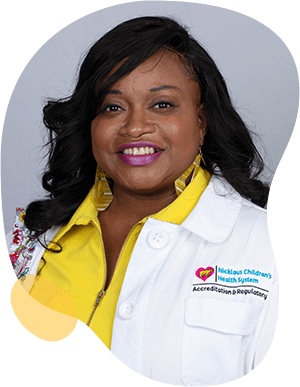 Joining a new organization can be daunting or overwhelming. But at Nicklaus, your colleagues make you feel welcomed. They taught me to celebrate our accomplishments and band together during challenging times. This is not easy to find in healthcare these days, so I'm grateful to have found an amazing place to work with people and leadership who have my well-being in mind.

Lova Renee Brunson

Manager Accreditation & Regulatory
Collaboration leads to success.
Alone we can do so little; together we can do so much. Working together, we find solutions and methods we would never find alone, and at Nicklaus Children's, we have fun doing it.
Responsibility drives us.
We all take responsibility here – for the children, their families, our work and each other. We meet our responsibilities head on and motivate each other to succeed.
Empower yourself, help others.
Nicklaus Children's encourages team members to believe in their ability to affect positive change in the world through everything they do with us.
Advocate for the right way.
Advocate for children. Advocate for families. Advocate for yourself. But most of all, advocate for getting the job done right and you will find nothing but success and support in your career here.
Transformation is growth.
At Nicklaus Children's, change is not to be feared. When you work here, you are always working with the most advanced tools and procedures available.
Empathy is everything.
We expect our team members to have empathy for the patients and families they treat, and in turn, we have empathy for them. We take care of everyone in the Nicklaus Children's family with competitive benefits and our supportive culture.
Join Our Talent Community