Trauma Registry Data Analyst (Full Time, Remote Day shift)
TRAUMA SERVICES
Florida-Miami-Nicklaus Children's Hospital - Main Hospital Campus
Miami, Florida
Requisition ID 24533
Job Summary
Works as part of the Trauma Service to achieve high quality, cost-effective health care throughout Nicklaus Children's Hospital. Works closely with other departments to maintain the licensing requirements for the organization and facilitates the performance improvement process by providing accurate and timely data.
*** This position will be remote once candidate completes training ***
Job Specific Duties
Abstracts required information into the Trauma Registry and coordinates the reporting of data to the Florida Department of Health Trauma Registry as set forth in the Florida Trauma Standards.

Facilitates and manages the process for identifying trauma patients in the hospital data system utilizing Cerner reports.

Identifies issues related to performance improvement and identifies trends. Prepares data reports for Trauma Committee, M&M and trauma site visits.

Ensures accurate and error free data reporting to the Florida Department of health at least quarterly.

Ensures accurate and error free data reporting to NTDB quarterly during the call for data.

Demonstrates knowledge of procedures necessary for developing and maintaining the trauma registry database. Performs or coordinates regular upgrades as recommended by the vendor to ensure proper database functioning.

Adheres to the internal controls established to maintain patient confidentiality at all times, ensures that public use data is de-identified prior to release and Nicklaus Children's Hospital research data is adequately protected.

Uses statistical techniques and knowledge in the representation of data.

Conducts special projects and assignments at the direction of the Trauma Director, PI Nurse or Trauma Medical Director.

Participates in the gathering of data for approved research projects.

Ensures data accuracy and completeness prior to release.
Minimum Job Requirements
CSTR - Certified Trauma Registry Spec (American Trauma Society) required within one (1) year of hire - maintains active and in good standing throughout employment

CAISS - Certified Abbreviated Injury Scaling Specialist (Association for Advancement of Automotive Medicine) required within one (1) year of hire - maintain active and in good standing throughout employment

American Trauma Society Trauma Registry course within one (1) year of hire

Completion of Trauma Specific ICD-10 course

Completion of Association for Advancement of Automotive Medicine AIS course

2-4 years of Registry and Coding experience
Knowledge, Skills, and Abilities
EMT, Paramedic training or vocational nursing training program highly preferred

High school education or equivalent

Preferred experience with Trauma One

Knowledge of medical terminology

Knowledge of basic data management practices, registry maintenance and security procedures

Working knowledge of basic statistics, and performance improvement and patient safety principles

Able to listen and communicate effectively, both verbally and in writing

Understanding of ICD9-CM and AIS/ISS scoring methods

Able to take initiative in identifying problems that affect quality, and independently problem-solve

Able to interact cooperatively with a variety of people and departments, and work in a team environment



Professional
Florida-Miami-Nicklaus Children's Hospital - Main Hospital Campus
TRAUMA SERVICES-2100-679001
:Full Time
Apply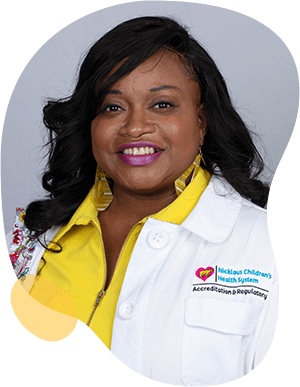 Joining a new organization can be daunting or overwhelming. But at Nicklaus, your colleagues make you feel welcomed. They taught me to celebrate our accomplishments and band together during challenging times. This is not easy to find in healthcare these days, so I'm grateful to have found an amazing place to work with people and leadership who have my well-being in mind.

Lova Renee Brunson

Manager Accreditation & Regulatory
Collaboration leads to success.
Alone we can do so little; together we can do so much. Working together, we find solutions and methods we would never find alone, and at Nicklaus Children's, we have fun doing it.
Responsibility drives us.
We all take responsibility here – for the children, their families, our work and each other. We meet our responsibilities head on and motivate each other to succeed.
Empower yourself, help others.
Nicklaus Children's encourages team members to believe in their ability to affect positive change in the world through everything they do with us.
Advocate for the right way.
Advocate for children. Advocate for families. Advocate for yourself. But most of all, advocate for getting the job done right and you will find nothing but success and support in your career here.
Transformation is growth.
At Nicklaus Children's, change is not to be feared. When you work here, you are always working with the most advanced tools and procedures available.
Empathy is everything.
We expect our team members to have empathy for the patients and families they treat, and in turn, we have empathy for them. We take care of everyone in the Nicklaus Children's family with competitive benefits and our supportive culture.
Join Our Talent Community