Ultrasound Tech - (Full Time, Evening Shift)
RADIOLOGY ULTRASOUND
Florida-Miami-Nicklaus Children's Hospital - Main Hospital Campus
Miami, Florida
Requisition ID 24147
Job Summary:
Performs general ultrasound examinations within the department, nursing units, and off-site centers.
HOURS OF OPERATION

:

Saturday and Sunday 7:00 PM – 7:00 AM and Monday and Tuesday 11 PM – 7 AM
Minimum Job Requirements:
American Heart Association (AHA) BLS - must maintain active and in good standing throughout employment.
RDMS (Registered Diagnostic Medical Sonographer) eligible and receive certification within 14 months of hire required - must maintain active and in good standing throughout active employment.
Job Specific Duties:
Assists in minor surgical procedures, such as biopsies, cyst aspirations, etc.
Assists in the training of new employees.
Responsible for technical proficiency in producing diagnostic scans with ability to recognize visible anatomical structures.
Ensures adequate clinical history is available to correlate with the ultrasound examination. Verifies information with the requisition and patient chart per hospital policy.
Maintains records of examinations. Schedules cases to coordinate with other examinations and reviews NPO status on selected cases.
Performs all ultrasound examinations (i.e. renal, brain, soft tissue, etc). Completes required documentation in an accurate and timely manner.
Adjusts equipment, determines proper technique, and arranges immobilization and support devices to obtain correct patient position.
Communicates effectively with hospital employees, physicians, and patients.
Reports any equipment problems/malfunctions to clinical engineering or supervisor on an as needed basis and problem solves issues with equipment.
Follows hospital patient-identification policy prior to performing examination. Verifies two patient identifiers to ensure right patient and correct procedure.
Observes safety practices at all times, adheres to all clean sweep guidelines and infection control standards per policy.
Performs QA, completes exam, enters and transmits patient information into PACS in a timely manner.
Performs portable examinations in operating room, emergency department, and in-patient rooms. 
Responsible for monitoring inventory, maintains cleanliness of the equipment, and stocks scan room.  
Contacts Physician within 1 hour for all STAT cases with results.
Common Duties
Maintains accountability by ensuring compliance thru timely completion of licensures, certifications, all competencies, health requirements (PPD, N95, Flu, etc.), and education requirements. F: Monthly-Quarterly/T: 2 hours/ R: Individual
Maintains accountability and timekeeping expectations as outlined by MCHS Timekeeping and Attendance policy and procedures.  Ensures behavior is compliant with communication standards.  F: Weekly/T: 2 hours/ R: Individual
Knowledge/Skills/Abilities:
Knowledge of ultrasound procedure protocols.
Previous experience in pediatric ultrasound technology preferred.
Ability to communicate effectively both verbally and in writing.
Ability to interpret, adapt, and react calmly under stressful conditions.
Able to maintain confidentiality of sensitive information.
Able to relate cooperatively and constructively with patients, families, and co-workers.
Ability to problem solve to adapt standard clinical procedures to the individual client's need.
(EOE DFW)
8/8/17
Imaging & Radiology
Florida-Miami-Nicklaus Children's Hospital - Main Hospital Campus
RADIOLOGY ULTRASOUND-2100-721005
:Full Time
Apply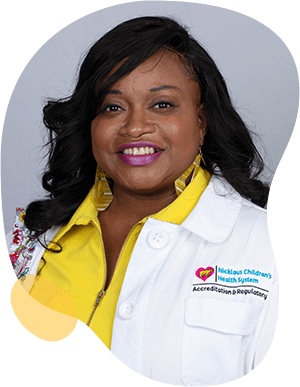 Joining a new organization can be daunting or overwhelming. But at Nicklaus, your colleagues make you feel welcomed. They taught me to celebrate our accomplishments and band together during challenging times. This is not easy to find in healthcare these days, so I'm grateful to have found an amazing place to work with people and leadership who have my well-being in mind.

Lova Renee Brunson

Manager Accreditation & Regulatory
Collaboration leads to success.
Alone we can do so little; together we can do so much. Working together, we find solutions and methods we would never find alone, and at Nicklaus Children's, we have fun doing it.
Responsibility drives us.
We all take responsibility here – for the children, their families, our work and each other. We meet our responsibilities head on and motivate each other to succeed.
Empower yourself, help others.
Nicklaus Children's encourages team members to believe in their ability to affect positive change in the world through everything they do with us.
Advocate for the right way.
Advocate for children. Advocate for families. Advocate for yourself. But most of all, advocate for getting the job done right and you will find nothing but success and support in your career here.
Transformation is growth.
At Nicklaus Children's, change is not to be feared. When you work here, you are always working with the most advanced tools and procedures available.
Empathy is everything.
We expect our team members to have empathy for the patients and families they treat, and in turn, we have empathy for them. We take care of everyone in the Nicklaus Children's family with competitive benefits and our supportive culture.
Join Our Talent Community