VP Chief Compliance/Privacy Officer
ADMINISTRATIVE OFFICERS
Florida-Miami-NCHS Corporate Headquarters
Miami, Florida
Requisition ID 22745
Job Summary

Serves as the senior executive with responsibility for managing, designing, planning, implementing, and maintaining the compliance program for NCHS. Provides administrative leadership to Internal Audit and facilitates collaboration between the Compliance and Internal Audit functions including the enterprise risk assessment. Promotes a culture that fosters ethical and compliant behavior and provides the basis for ensuring adequate internal controls and compliance with the Code of Business and Legal Conduct, and policies and procedures, as well as, all laws and regulatory requirements applicable to NCHS.

Job Specific Duties
Assures there are processes in place to receive, investigate, and resolve reports of actual and potential compliance issues including those reported through the Compliance Hotline.
Develops, implements, and manages NCHS's compliance work plans to include billing compliance, privacy, and general regulatory compliance.
Leads the annual enterprise risk assessment and supports the Director of Internal Audit in the development, implementation, and management of NCHS's internal audit work plans.
Ensures proper reporting of violations or potential violations to duly authorized enforcement agencies as appropriate and required. Ensures reported issues are appropriately evaluated, investigated, and resolved. Serves as a resource for the development and implementation of corrective action plans.
Responsible for and adhere to the Code of Business and Legal Conduct, the Compliance Program, and the no retaliation policies. Comply with all laws regulations and company policies governing the delivery of quality health care services to include all DNV standards.
Oversees the execution of the compliance work plans, including audits, reviews, investigations, and consultations. Regularly conducts compliance risk assessments and refines the compliance program to address significant risks. Maintains a tracking system for all compliance issues reported to the Compliance department.
Works collaboratively with IT and Security Officer to carry out periodic HIPAA risk assessments.
Periodically reviews and updates NCHS Code of Business and Legal Conduct and compliance policies to ensure currency and relevance in providing guidance to all NCHS family members and others affiliated with the organization.
Provides guidance to the NCHS Board of Directors (particularly to the Audit and Compliance Committee) and the NCHS executive team on matters related to compliance with laws and regulations that govern Health System operations.
Provides reports to CEO and the Audit and Compliance Committee of the NCHS Board of Directors on a regular basis and as requested. Keeps them apprised of compliance issues and compliance initiatives.
Serves as the point of contact and coordinates participation in regulatory agency audits and site visits related to the full scope of compliance matters.
Updates educational materials (general orientation, annual mandatory training, etc.) and facilitates training to maintain awareness of the compliance program, the Code of Business and Legal Conduct, and regulatory requirements among NCHS family members.
Assures the NCHS Compliance Monitoring Committee and Executive Compliance Committee meet on a regular schedule. Coordinates information flow and escalation of issues to the appropriate level within NCHS, including the NCHS Audit and Compliance Committee.
Work with legal counsel, government affairs, and other related internal functions to represent the organization's interests with regulators regarding relevant legislation, regulations, or standards.
Minimum Job Requirements
Master's Degree Healthcare Administration, Juris Doctor, or related field
More than 10 years of progressive leadership and management experience in a hospital, health system, or academic medical center setting
7-10 years of managerial and supervisory experience having developed personnel in to progressive roles
Knowledge, Skills, and Abilities
Certification in Healthcare Compliance and privacy (e.g. CHC, CHP, CIPP/US) preferred.
Demonstrated success integrating compliance into daily healthcare operations.
Demonstrates sound business judgment and support of NCHS's mission and objectives.
Effective presentation skills and the ability to help others understand complex concepts.
Effective problem solving, analytical, and negotiation skills.
Progressive responsibilities in healthcare compliance in a hospital setting.
Provides leadership and direction in a manner that cultivates respect and influences behavior at all levels of the organization.
Thorough knowledge of healthcare compliance and regulatory requirements.
Understands the complexities and operational processes of a hospital organization.
Exceptional interpersonal and leadership skills with the ability to influence and work collaboratively.
Able to problem solve, prioritize assignments, and effectively manage projects.
Inherent skills as a leader of people with a strategic orientation.
Excellent analytical, written, and oral communications skills.
Experience in public speaking and business presentations.
Executive
Florida-Miami-NCHS Corporate Headquarters
ADMINISTRATIVE OFFICERS-1000-955901
:Full Time
Apply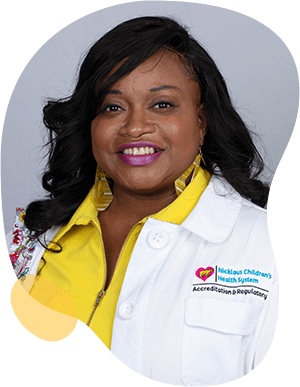 Joining a new organization can be daunting or overwhelming. But at Nicklaus, your colleagues make you feel welcomed. They taught me to celebrate our accomplishments and band together during challenging times. This is not easy to find in healthcare these days, so I'm grateful to have found an amazing place to work with people and leadership who have my well-being in mind.

Lova Renee Brunson

Manager Accreditation & Regulatory
Collaboration leads to success.
Alone we can do so little; together we can do so much. Working together, we find solutions and methods we would never find alone, and at Nicklaus Children's, we have fun doing it.
Responsibility drives us.
We all take responsibility here – for the children, their families, our work and each other. We meet our responsibilities head on and motivate each other to succeed.
Empower yourself, help others.
Nicklaus Children's encourages team members to believe in their ability to affect positive change in the world through everything they do with us.
Advocate for the right way.
Advocate for children. Advocate for families. Advocate for yourself. But most of all, advocate for getting the job done right and you will find nothing but success and support in your career here.
Transformation is growth.
At Nicklaus Children's, change is not to be feared. When you work here, you are always working with the most advanced tools and procedures available.
Empathy is everything.
We expect our team members to have empathy for the patients and families they treat, and in turn, we have empathy for them. We take care of everyone in the Nicklaus Children's family with competitive benefits and our supportive culture.
Join Our Talent Community