Physician/Attending - Emergency Medicine/Hospitalist (Pediatrics) - Jupiter, FL (Per Diem/Pool, Variable shifts)
NCPS-JMC HOSPITALISTS
Florida-West Palm Beach-De George Pediatric Unit JMC
West Palm Beach, Florida
Requisition ID 23697
Job Summary
Provides operational leadership for all pediatric care services. Provide clinical leadership and expertise with the care clinical team. Proactively identify opportunities to improve the patient and family experience of care and the efficiency and effectiveness of resource use. Ensures compliance with legal, regulatory, and clinical policies and procedures.
Job Specific Duties
Oversight of the hiring and work of care clinical team members in conjunction with Nursing and NCPS.

Participation and clinical leadership in the development and review of appropriate hospital and clinical protocols.

Leadership of regular team meetings for the operational and administrative functions of program.

Development and oversight of metrics to demonstrate program impact.

Oversight of program budget, review of performance measures, and use of staff resources proportional to activity and patient care.

Regular review of financial and operational impact of program on the hospital and production of summaries for leadership review.

Leadership in the identification of education needs for hospital staff and development of effective educational strategies.

Outreach to and education for community agencies and health care settings as appropriate.

Oversight for implementation of clinical protocols, utilization review, case management, quality assurance, and compliance programs according to hospital policies.

Ensures compliance with JCAHO/DNV and other regulatory standards.

Participation in quality assurance and peer review programs including compliance with and implementation of any resulting recommendations.

Spokesperson for the program internally and externally.

Participation in research, education, advocacy, and clinical initiatives to advance the field of patient care.

Works with hospital leadership to enhance the community outreach to physicians, the public, healthcare facilities, and other applicable organizations in the community.

Serves as program director for fellowship training, if applicable.

Works with Public Relations to develop and update program marketing materials.

Works with the SVP Foundation to secure philanthropic support.
Minimum Job Requirements
Doctor of Medicine Doctor of Medicine or Doctor of Osteopathy  

Doctor of Medicine Current state medical license and in good standing with medical board
Knowledge, Skills, and Abilities
Able to provide expert patient care.

Ability to relate cooperatively and constructively with clients and co-workers.

Effectively monitor and develop the abilities of subordinates.

Ability to communicate verbally and in writing.

Maintains confidentiality of sensitive information.

Ability to interpret, adapt, and react calmly under stressful conditions.

Ability to use complex mathematical techniques to budget and provide productivity assessments.

Ability to use logical and scientific thinking to interpret technical data and solve a broad range of problems.
Physician
Florida-West Palm Beach-De George Pediatric Unit JMC
NCPS-JMC HOSPITALISTS-3100-468805
:Pool
Apply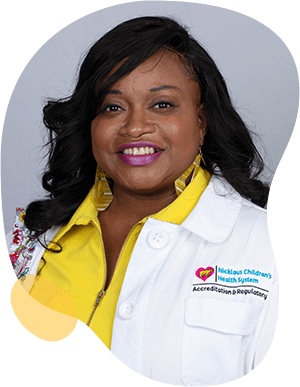 Joining a new organization can be daunting or overwhelming. But at Nicklaus, your colleagues make you feel welcomed. They taught me to celebrate our accomplishments and band together during challenging times. This is not easy to find in healthcare these days, so I'm grateful to have found an amazing place to work with people and leadership who have my well-being in mind.

Lova Renee Brunson

Manager Accreditation & Regulatory
Collaboration leads to success.
Alone we can do so little; together we can do so much. Working together, we find solutions and methods we would never find alone, and at Nicklaus Children's, we have fun doing it.
Responsibility drives us.
We all take responsibility here – for the children, their families, our work and each other. We meet our responsibilities head on and motivate each other to succeed.
Empower yourself, help others.
Nicklaus Children's encourages team members to believe in their ability to affect positive change in the world through everything they do with us.
Advocate for the right way.
Advocate for children. Advocate for families. Advocate for yourself. But most of all, advocate for getting the job done right and you will find nothing but success and support in your career here.
Transformation is growth.
At Nicklaus Children's, change is not to be feared. When you work here, you are always working with the most advanced tools and procedures available.
Empathy is everything.
We expect our team members to have empathy for the patients and families they treat, and in turn, we have empathy for them. We take care of everyone in the Nicklaus Children's family with competitive benefits and our supportive culture.
Join Our Talent Community