Medical Director - Emergency Medicine - Baptist (Homestead, FL)
BAPTIST HOMESTEAD ED
Florida-Homestead-Baptist Homestead
Homestead, Florida
Requisition ID 25769
Job Summary
Works closely with the leadership team to support the NCHS mission to provide amazing patient care to all of our patients. Reports directly to the Emergency Department Chief and works collaboratively with clinical leaders to deliver excellent clinical outcomes at Nicklaus Children's and community locations. In addition, serves as the Medical Director for Baptist Homestead Campus Emergency Department.
Job Specific Duties
Serves as Medical Director for the Baptist Homestead Campus Emergency Department.




Provides professional medical services as a member of the pediatric emergency department.




Provide leadership in the management of the Hospital's Pediatric Emergency Department and work with Hospital personnel to develop protocols to improve patient care and maintain performance standards.




Collaborate with leadership to identify opportunities to improve the services provided so that patients and referring physicians have outstanding service experience.




Responsible for timely monthly coverage schedule submissions to Administrative Director.




Assist where appropriate in the preparation of the budget.




Assist in preparation and annual reviews of protocols, policies and procedures in the areas of direct clinical responsibility and make recommendations for change as appropriate.




Provide assistance in the investigation of all patient and physician complaints related to the department.




Collaborate with Medical Group and facility credentialing office, including providing timely information necessary to process credentialing materials relating to Physician for health insurers, state and federal agencies and other health organizations.




Assist Medical Group in building the patient-base through networking, emergency room coverage, community education and other reasonable marketing activities in accordance to the groups policies and procedures.




Provide teaching services to the Hospital's residents and fellows in accordance with the requirements of the Hosptial's medical education program and the Accreditation Council for Graduate Medical Education (ACGME).




Work with Hospital on medical quality management and performance improvement initiatives and assure that the Department physicians assist and cooperate in the medical quality management function at the Hospital and participate in and cooperate with Hospital's medical management initiatives, including but not limited to, patient and family centered care initiatives.




Comply with all rules, regulations and policies established by the Medical Group, Occupational Safety and Health Administration, all federal, state and local agencies and other accreditation organizations.




Conduct meetings as required by the Hospital Medical Staff Bylaws with physicians for the purpose of sharing information and updates regarding any practice changes and monitoring practice changes to assure compliance.




Participate in the development of Department's surveys, Joint Commission, AHCA reviews, Hospital Practice Analysis Committee and any other activities related to pediatric emergency services requested by the Administrative Director of the Medical Group.




Participate in the planning activities and the development of goals for initiatives directed by the Section Chief.




Participate in Medical Group's Risk Management program.




Work in collaboration with all Hospital personnel administration and act as a liaison between the Department and Hospital.




Leads, coaches, counsels, and evaluates direct reports on their job performance. Ensure employees adhere to all NCPS and NCHS policies and procedures, including NCHS Values and Guiding Behaviors. Makes appropriate recommendations for corrective action and carries them out. Consults with TM&E and Medical Staff Office as needed. Responsible for hiring and orienting new employees and the growth and development of direct reports.
Minimum Job Requirements
Doctor of Medicine or Osteopathy from an accredited medical school  (Required)




Doctor of Medicine - current state medical license and in good standing with medical board




CPR - American Heart Association BLS - maintain active and in good standing throughout employment
Knowledge, Skills, and Abilities
Exceptional clinical, research, and teaching skills and have a commitment to academic pediatrics.




Able to relate to and work cooperatively and constructively with patients, families, and co-workers.




Ability to effectively communicate verbally and in writing.




Maintains confidentiality of sensitive information.




Ability to interpret, adapt, and react calmly under stressful conditions.




Ability to problem solve to formulate a plan of care and evaluate the patient's response to care.




Ability to interpret, adapt, and react calmly under stressful conditions.




Ability to provide expert patient care.




Ability to demonstrate effective leadership skills, independent judgment, and initiative consistent with NCHS and NCPS policies and procedures.




Interpersonal skills necessary to establish and maintain effective working relationships with individuals both internal and external.




Models behaviors aligned with NCHS Values and Guiding Behaviors.




Consistently demonstrates professional competence, dependability, medical, and personal ethics.
Physician
Florida-Homestead-Baptist Homestead
BAPTIST HOMESTEAD ED-3100-412670
:Full Time
Apply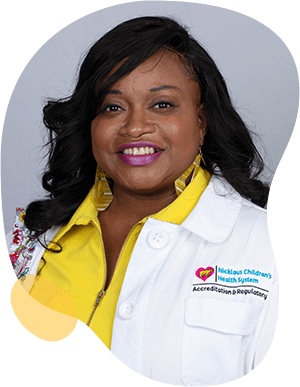 Joining a new organization can be daunting or overwhelming. But at Nicklaus, your colleagues make you feel welcomed. They taught me to celebrate our accomplishments and band together during challenging times. This is not easy to find in healthcare these days, so I'm grateful to have found an amazing place to work with people and leadership who have my well-being in mind.

Lova Renee Brunson

Manager Accreditation & Regulatory
Collaboration leads to success.
Alone we can do so little; together we can do so much. Working together, we find solutions and methods we would never find alone, and at Nicklaus Children's, we have fun doing it.
Responsibility drives us.
We all take responsibility here – for the children, their families, our work and each other. We meet our responsibilities head on and motivate each other to succeed.
Empower yourself, help others.
Nicklaus Children's encourages team members to believe in their ability to affect positive change in the world through everything they do with us.
Advocate for the right way.
Advocate for children. Advocate for families. Advocate for yourself. But most of all, advocate for getting the job done right and you will find nothing but success and support in your career here.
Transformation is growth.
At Nicklaus Children's, change is not to be feared. When you work here, you are always working with the most advanced tools and procedures available.
Empathy is everything.
We expect our team members to have empathy for the patients and families they treat, and in turn, we have empathy for them. We take care of everyone in the Nicklaus Children's family with competitive benefits and our supportive culture.
Join Our Talent Community