Associate Medical Director - Emergency Dept. Quality
BAPTIST MAIN ED
Florida-Miami-Baptist Main
Miami, Florida
Requisition ID 24451
Job Summary
Works with Medical Director, Pediatric ED, and Director of Community Initiatives and focus on managing quality performance and improvement activities in the ED. Supports Administrative call, serving as one of primary points of contact for ED provider concerns, and reviewing end of shift nurse reports to address patient/provider care delivery issues. Responsibilities vary by project (assigned by Director, Community Initiatives) and include reviewing data to identify opportunities, leading physician meetings, providing expertise in projects, compiling and reviewing metrics to assess performance needs, and overall driving initiatives forward to yield improved outcomes. Partner with hospital administration and medical leadership to lead and oversee various clinical, quality, patient experience, and medical administrative priorities within their designated program.
Job Specific Duties
Assists with resolution of care delivery issues and patient grievances within designated program and campus.

Assists in the development and revision of clinical policies, procedures, and care protocols to optimize outcomes as they pertain to quality management of the Emergency Department.

Establishes and holds program accountable to patient experience standards.

Ensures compliance with medical staff bylaws and other accreditation standards and regulations (American College of Surgeons for Trauma and all relevant regulatory agencies as applicable).

Reviews data to identify opportunities to improve overall quality of care delivered in the ED.

Identify and assist in creating effective PI /Quality initiatives which qualify for ABP MOC Part 4 Activity.

Ensures effective communication between program physicians, APPs, and other team members.

Identifies and participates in ongoing education for/by physicians and staff.

Is first-line resolution in escalation of provider-related concerns regarding clinical service quality.

Shares Administrative on-call responsibilities with other Emergency Department Directors to provide support to attendees, troubleshoot flow and at-capacity issues, and provide crisis management.

Provides oversight and leadership of program governance councils as reasonably requested.

Participates in medical staff, hospital committees, performance improvement, or other committees as assigned.

Participate and see patients as part of Medical Group's TeleHealth program.

Consistently treat Medical Group employees, colleagues, patients and their families, and others who accompany patients to office and hospital visits in a professional and respectful manner.

Participate in and cooperate with the peer review, Quality Improvement and Quality Management programs and procedures of Medical Group, and assist in the development and achievement of clinical quality indicators and outcomes.

Comply with all rules, regulations, and policies established by Medical Group, the Occupational Safety & Health Administration, all federal, state, and local agencies, and other accreditation organizations Comply with all Medicare, Medicaid, and other third-party payor reimbursement rules and OIG compliance standards. Participate in any Ethics Training Programs and Compliance Training Programs established by Medical Group and Hospital.

Assist Medical Group in the investigation, documentation, and resolution of any issue arising out of Medical Group's dealings with peer review and all regulatory agencies having jurisdiction relating to the Practice Site.

Maintain a minimum performance of 85% or higher adherence to evidence-based guidelines for process as established by the National Center for Quality Assurance (NCQA) that apply to the Physician's practice for ambulatory and inpatient practice. Maintain 90% or higher to those Hospital Quality Alliance metrics for hospitalized patients that apply to the Physician's practice.

Provide teaching services to the Hospital's residents and fellows in accordance with the requirements of the Hospital's medical education program and the Accreditation Council for Graduate Medical Education ("ACGME").

Accompany representatives of Medical Group's parent, NCHS, and NCHS affiliates to events to discuss issues relating to NCHS or NCHS affiliates' operations.

Expected to achieve the annual Press Ganey physician-related patient satisfaction target as provided by the Hospital.

Adhere to standard Computerized Physician Order Entry ("CPOE") processes and will input a minimum of 95% of Physician's orders for inpatients through the CPOE system provided by the Hospital and adhere to a 95% compliance with medical record coding accuracy.

Complete medical records pursuant to the requirements of the Hospital's Medical Staff Bylaws and Medical Group guidelines. Completes NCHS quarterly curriculum.

Participate in community events and educational lectures to other physician.
Minimum Job Requirements
Doctor of Medicine or Doctor of Osteopathy from an accredited medical school   

MD - Doctor of Medicine Current state medical license and in good standing with medical board
Knowledge, Skills, and Abilities
Exceptional clinical, research, and teaching skills and have a commitment to academic pediatrics.

Able to relate cooperatively and constructively with patients, families, and co-workers.

Ability to communicate verbally and in writing.

Maintains confidentiality of sensitive information.

Ability to interpret, adapt, and react calmly under stressful conditions.

Ability to problem solve to formulate a plan of care and evaluate the patient's response to care.

Ability to interpret, adapt, and react calmly under stressful conditions.
Physician
Florida-Miami-Baptist Main
BAPTIST MAIN ED-3100-401670
:Full Time
Apply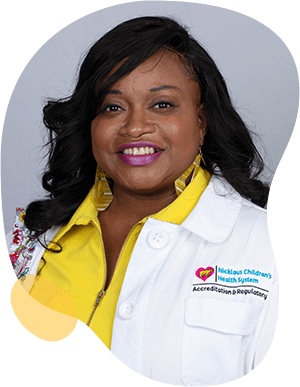 Joining a new organization can be daunting or overwhelming. But at Nicklaus, your colleagues make you feel welcomed. They taught me to celebrate our accomplishments and band together during challenging times. This is not easy to find in healthcare these days, so I'm grateful to have found an amazing place to work with people and leadership who have my well-being in mind.

Lova Renee Brunson

Manager Accreditation & Regulatory
Collaboration leads to success.
Alone we can do so little; together we can do so much. Working together, we find solutions and methods we would never find alone, and at Nicklaus Children's, we have fun doing it.
Responsibility drives us.
We all take responsibility here – for the children, their families, our work and each other. We meet our responsibilities head on and motivate each other to succeed.
Empower yourself, help others.
Nicklaus Children's encourages team members to believe in their ability to affect positive change in the world through everything they do with us.
Advocate for the right way.
Advocate for children. Advocate for families. Advocate for yourself. But most of all, advocate for getting the job done right and you will find nothing but success and support in your career here.
Transformation is growth.
At Nicklaus Children's, change is not to be feared. When you work here, you are always working with the most advanced tools and procedures available.
Empathy is everything.
We expect our team members to have empathy for the patients and families they treat, and in turn, we have empathy for them. We take care of everyone in the Nicklaus Children's family with competitive benefits and our supportive culture.
Join Our Talent Community