Business Operations Manager
BUSINESS OPERATIONS SUPPORT
Florida-Miami-NCHS Corporate Headquarters
Miami, Florida
Requisition ID 25477
Job Summary
Responsible for continuous process improvements to optimize and streamline business operations, business processes, and workflows for the organization. Provides operational analysis, consultation, and support to leadership to attain system business objectives that supports our Mission. Liaisons and partners with other support areas and leaders. Assists and serves as a resource in the development and monitoring of annual operating budgets for the areas supported. Supports the MOR process for all areas supported (primarily supporting the understanding of variances and validating with leadership), capital budgets, and supports business plans. Identifies, collaborates, and supports initiatives to improve business operations, performance, and revenue optimization. Explores impacts of multiple growth and strategic initiatives and differentiators.
Job Specific Duties
Tracks and trends operational, financial, and quality KPIs for the applicable service areas (monthly, quarterly, and annually).

Assists operational leaders in preparing variance explanations for KPIs and identifies trends for such variances.

Works with operational leader to discuss findings and formulate action plans. Supports leader in the execution of action plans.

Continuously involved in identifying operational efficiencies and working with operational leader and hospital CFO to execute opportunities.

Prepares the monthly and quarterly operating report at the direction of the operational leader.

Assists operational leader with the development of programs or strategic initiatives by compiling all relevant research and feasibility studies necessary to evaluate and execute.

Serve as project manager by planning, organizing, and directing the completion of an assigned project while ensuring it is completed on time, on budget, and within scope.

Works as liaison between hospital finance and hospital operations to ensure consistency in the execution of finance procedures, as well as, the development of department operating and capital budgets and forecasts.

Manages the development of operations dashboard together with IT and with the input from operational leader and finance leadership.
Minimum Job Requirements
Bachelor's

d

egree

in

Business Administration, Healthcare Administration, or related field

2-4 years

of p

roject management experience in healthcare environment

2-4 years

of h

ospital financial and operational data analysis experience

2-4 years

of l

eadership or people management experience
Knowledge, Skills, and Abilities
Master's degree preferred.

In-depth knowledge of hospital operations to include understanding of applicable service area workflow and quality standards.

Ability to apply industry standards and best practices.

In-depth knowledge of hospital financial operations to include understanding of volume, net revenue, and expense drivers for the applicable service areas.

Ability to track and trend performance through the use of various finance and data application tools such as: PeopleSoft, Axiom, Labor Lytics, Business Objects,etc.

Understands financial month-end close process.

In-depth knowledge of state and federal regulatory guidelines relevant to the applicable service area and ability to apply such guidelines to relevant projects, strategic initiatives, etc.

In-depth knowledge of programmatic development for applicable service area.

Ability to understand market trends for the applicable service area through the tracking of market share data.

Ability to prioritize and plan time effectively in order to balance multiple tasks and projects with different completion dates.

Proficient in Microsoft applications: Excel, Word, Access and PowerPoint.

Ability to maintain confidentiality of sensitive information.

Excellent written and oral communication skills.
Management
Florida-Miami-NCHS Corporate Headquarters
BUSINESS OPERATIONS SUPPORT-2100-866906
:Full Time
Apply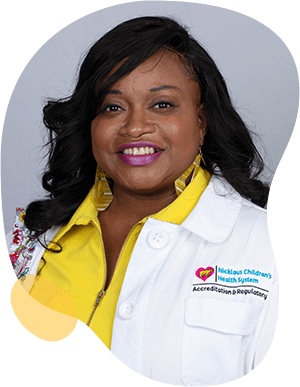 Joining a new organization can be daunting or overwhelming. But at Nicklaus, your colleagues make you feel welcomed. They taught me to celebrate our accomplishments and band together during challenging times. This is not easy to find in healthcare these days, so I'm grateful to have found an amazing place to work with people and leadership who have my well-being in mind.

Lova Renee Brunson

Manager Accreditation & Regulatory
Collaboration leads to success.
Alone we can do so little; together we can do so much. Working together, we find solutions and methods we would never find alone, and at Nicklaus Children's, we have fun doing it.
Responsibility drives us.
We all take responsibility here – for the children, their families, our work and each other. We meet our responsibilities head on and motivate each other to succeed.
Empower yourself, help others.
Nicklaus Children's encourages team members to believe in their ability to affect positive change in the world through everything they do with us.
Advocate for the right way.
Advocate for children. Advocate for families. Advocate for yourself. But most of all, advocate for getting the job done right and you will find nothing but success and support in your career here.
Transformation is growth.
At Nicklaus Children's, change is not to be feared. When you work here, you are always working with the most advanced tools and procedures available.
Empathy is everything.
We expect our team members to have empathy for the patients and families they treat, and in turn, we have empathy for them. We take care of everyone in the Nicklaus Children's family with competitive benefits and our supportive culture.
Join Our Talent Community