Physician Assistant/First Assistant - Plastic Surgery (Full Time, Day shift)
Advanced Practice Provider
Florida-Miami-Nicklaus Children's Hospital - Main Hospital Campus
Miami, Florida
Requisition ID 23782
Job Summary

Provides diagnostic, therapeutic, surgical, and preventative care under the supervision of a surgeon. Assists the surgeon in the global management of patient care in all peri-operative settings. Completes pre-op tasks including physical examinations and recording health history. Orders appropriate laboratory and radiographic tests. Participates in daily rounds, writes progress notes, conducts patient education, writes prescriptions, and prepares discharge summaries.

Job Specific Duties
Performs comprehensive and problem focused history and physical examinations.
Performs first assist duties.
Provides pre and post-operative surgical care.
Conducts daily hospital rounds.
Writes orders and progress notes.
Initiates emergency resuscitation and stabilization as necessary.
Orders appropriate laboratory tests, radiological studies, and consultations.
Participates in committees, research, and special projects related to specialty area.
Participates in quality improvement program.
Formulates and implements treatment and therapeutic plans for hospitalized patients.
Performs procedures as demonstrated through competency.
Orders and/or prescribes controlled and non-controlled substances for inpatient/outpatients (DEA required for controlled substances).
Assists with call.
Minimum Job Requirements
Graduation from an accredited Physician Assistant program  (Required)
PA - Physician Assistant Current and valid Physician Assistant licensure with the State of Florida
NCCPA - Ntl Commission on Certif of PA
CPR BLS -American Heart Association BLS American Heart Association (AHA) BLS - must maintain active and in good standing throughout employment
PALS - American Heart Association PALS American Heart Association (AHA) PALS - must maintain active and in good standing throughout employment
BACKGRD - Level II Background Check
Must maintain current continuing education requirements as specified by the American Academy of Physicians Assistants (AAPA) and the State of Florida Regulatory Agencies.
Knowledge, Skills, and Abilities
Ability to relate cooperatively and constructively with patients, families, and co-workers.
Ability to communicate verbally and in writing.
Able to maintain confidentiality of sensitive information.
Ability to problem solve, formulate a plan of care, and evaluate the patient's response to care.
Ability to interpret, adapt, and react calmly under stressful conditions
#APP
Professional
Florida-Miami-Nicklaus Children's Hospital - Main Hospital Campus
NCPS-PLASTIC SURGERY-3100-440785
:Full Time
Apply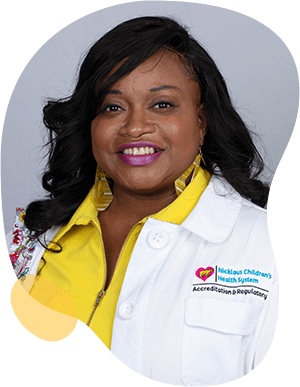 Joining a new organization can be daunting or overwhelming. But at Nicklaus, your colleagues make you feel welcomed. They taught me to celebrate our accomplishments and band together during challenging times. This is not easy to find in healthcare these days, so I'm grateful to have found an amazing place to work with people and leadership who have my well-being in mind.

Lova Renee Brunson

Manager Accreditation & Regulatory
Collaboration leads to success.
Alone we can do so little; together we can do so much. Working together, we find solutions and methods we would never find alone, and at Nicklaus Children's, we have fun doing it.
Responsibility drives us.
We all take responsibility here – for the children, their families, our work and each other. We meet our responsibilities head on and motivate each other to succeed.
Empower yourself, help others.
Nicklaus Children's encourages team members to believe in their ability to affect positive change in the world through everything they do with us.
Advocate for the right way.
Advocate for children. Advocate for families. Advocate for yourself. But most of all, advocate for getting the job done right and you will find nothing but success and support in your career here.
Transformation is growth.
At Nicklaus Children's, change is not to be feared. When you work here, you are always working with the most advanced tools and procedures available.
Empathy is everything.
We expect our team members to have empathy for the patients and families they treat, and in turn, we have empathy for them. We take care of everyone in the Nicklaus Children's family with competitive benefits and our supportive culture.
Join Our Talent Community